Teenage heartache has become a publicly traded commodity. Every day on social media, young people broadcast intimate moments of their lives to a global audience, enacting break-ups and reconciliations in the midst of the data stream, and seeking solace from the crowd. Everything is Going To Be OK :) explores this new, performative model for love and loss emerging in networked environments.
The work is a dynamically generated and created in real-time out of fragments of personal conversations sourced from Twitter; custom software combines these found texts into a five-scene dialogue projected onto the installation space. It builds on a series of electronic literature collaborations between Andrew and Chris which have explored the potential for creating long-form narratives in real-time with Big Data, a technique they have recently published on.
ONLINE VERSION
Originally a gallery installation, the artwork was ported to a web application in 2014.
EXHIBITION HISTORY
Everything Is Going To Be OK :) premiered on Cockatoo Island, Sydney in August 2013 as part of Underbelly Arts Festival. Later that year, it was shown at Carriageworks in September 2013 as part of FBi Turns 10, where many audience members spontaneously uploaded their interactions with the artwork to Instagram. A final iteration for iPad was exhibited and performed live as a curated artwork of the Electronic Literature Organization conference Media Arts Show in Milwaukee, USA in June 2014. Read the review in Broadsheet magazine.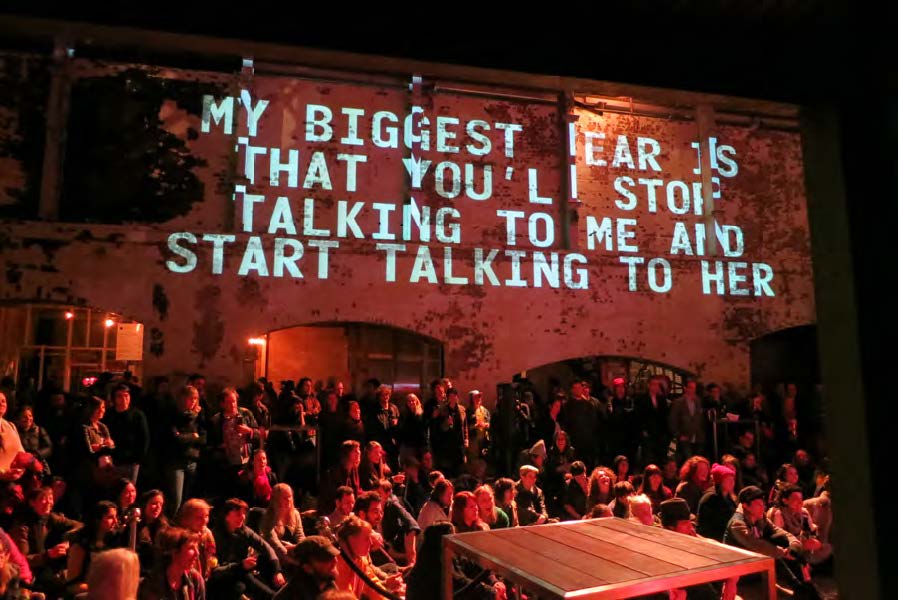 THE ARTISTS
Andrew Burrell is a contemporary arts practitioner with a long history in real time 3D and interactive audio installation. He is exploring notions of self and narrative and the implications of virtual worlds, networked environments and artificial life systems upon identity. His networked projects in virtual environments have received international recognition. Andrew holds a PhD from the University of Sydney.
Chris Rodley is a writer for new and old media whose work is exploring emerging frontiers for the literary in networked spaces. He is currently focused on writing for new media installations, while past projects include writing for web, television and live performance. Chris is a PhD candidate in Digital Cultures at the University of Sydney, where he is tracing the impact of Big Data on poetics.
For over two years, Andrew and Chris's practice has focused on live storytelling using Big Data in a series of electronic literature and media art collaborations. They include the public art installation Enquire Within Upon Everybody, presented simultaneously in Sydney and Darwin as part of ISEA2013; real-time Twitter play Everything Is Going To Be OK :); Data Fiction v0.1, presented at Electrofringe, Newcastle, Australia; B.E.T.T.Y., presented at Electroscape, 107 Projects, Art Gallery of NSW Society/Contempo, Sydney and the Garden of Forking Paths touring exhibition, dLux Media Arts; and 1,244 Broken Hearts, presented at Oxford Art Factory, Sydney and the Art & Algorithms festival, Titusville, Florida, USA.